Create a Solunar Diagram Free
It is a well known fact that the sun and moon effect wildlife activity. When fishing, hunting, birdwatching or taking photos it is important to look into the sun and moon phase before planning your activity. Our solunar diagrams will show you the solunar coincidence score, moon distance score, moon phase score and and much more! They can be customized for any date and used for almost every location in the world. They are quick, easy and free to use. The output for one day will look like the image below.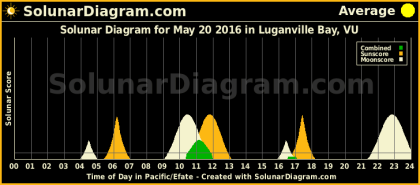 Included in our solunar diagrams:
Moon Phase
High Noon
Moon Age
Moon Distance
Moonrise
Moonset
Sunrise
Sunset
Coincidence Score
Moon Distance Score
Moon Phase Score
Number of Peaks
Peaks
Overall Solunar Score
We give you the exact times down to the minute, every day of the year, everywhere in the world! The solunar diagrams can be printed, downloaded, emailed and shared with friends. Click here to create a solunar diagram based on your location.
Recent Solunar Diagrams
Connection failed: Can't connect to local MySQL server through socket '/var/run/mysqld/mysqld.sock' (2)